MSU faces off against Abilene Christian before Egg Bowl showdown
FCS test before the battle for the golden egg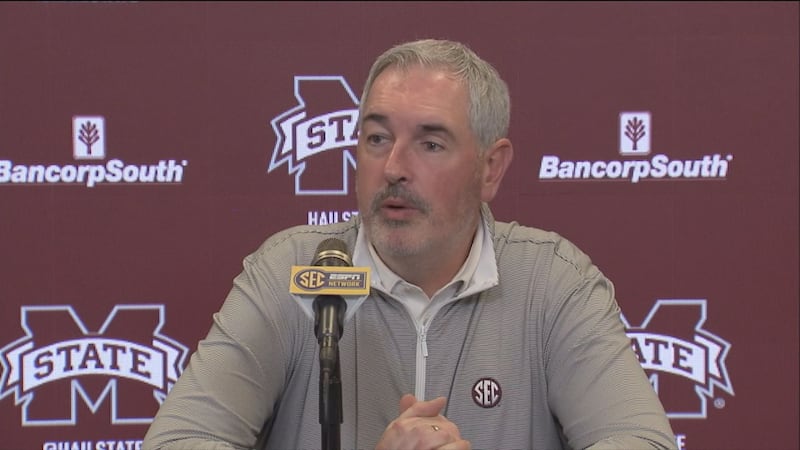 Updated: Nov. 18, 2019 at 11:43 PM CST
JACKSON, Miss. (WLBT) - Mississippi State plays against Alibene Christian on Saturday. An FCS test right before the Egg Bowl.
Joe Moorhead says this game is an opportunity for the offense to start clicking before their big match up against Ole Miss.
After this game they also have a short week leading up to their battle for another year with the Golden Egg.
"We need to get that back clicking. We need to get Osirus Mitchell going a little bit more, along with Deddrick Thomas and Stephen Guidry. We need to get the quarterbacks to being confident. This is a good opportunity run game and pass game wise to work on some of those things in a game setting and get those back to being effective, heading into the last week of the regular season," said Moorhead.
Moorhead was once a coach in the FCS and says they will be focusing on the process instead of who they are playing. The coach also talked about what it was like being an FCS coach playing against a team like MSU.
"You kind of got into it with a very aggressive mindset and attitude. Anyone who puts on a helmet, or plays the game at this level, or any sport for that matter, wants to believe they can play at the highest level. Like I said, the kids enter the game with a chip on their shoulder. They go in with everything to gain and nothing to lose. We were 2-2 [in those games at Fordham]. We lost Cincinnati and lost to Army, then beat Temple and beat Army. It is just a game where the kids are excited about it and the coaching staff is excited about it. They have something to prove," said Moorhead.
Even though the biggest game of the season is the one at the end of the schedule, the Bulldogs focus will be on this match up against the Wildcats.
"We need to be focused on the task at hand. Certainly, everyone knows what is looming on the back end of this: a huge game, a huge rivalry game. Our focus will turn to that the second the clock ticks zero against Abilene Christian. Right now, all of the focus and attention of the players and staff are on doing what is necessary to get win No. 5 and beat Abilene Christian. When the clock hits zero, it will be full speed ahead to the last game," said Moorhead.
Coach Moorhead said after the ACU game, the Bulldogs still have a schedule they stick to leading up to the Egg Bowl. "There will not be much rest or sleep on Saturday," said the coach.
"We will immediately go into game planning for Ole Miss throughout the day. We will have a team meeting with the kids. They will watch the tape on their own while we continue to game plan. We will practice Sunday, which is what we did last year. Essentially, Monday turns into a Tuesday. Tuesday turns into kind of a hybrid Wednesday/Thursday. Wednesday turns into kind of a hybrid Thursday/Friday. It is just making sure we get all of our game planning done in the appropriate fashion, and also making sure that in that short week we are getting all the situations in practice that we need to."
Copyright 2019 WLBT. All rights reserved.