'I was one of them long ago': Brett Favre talks to kids at Boys and Girls Club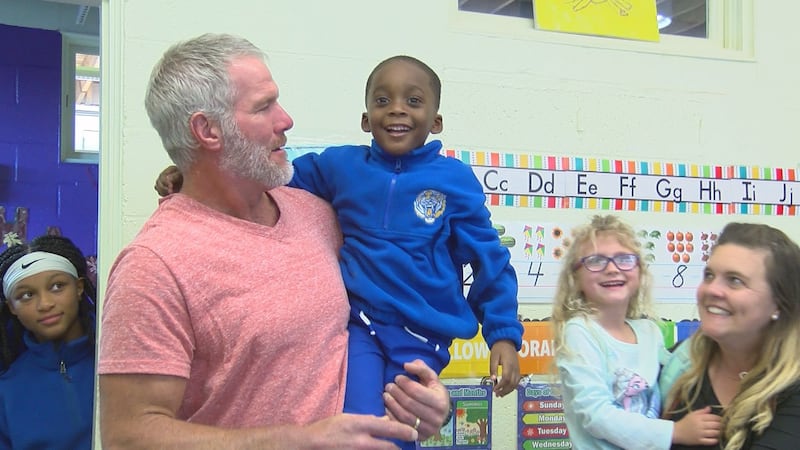 Updated: Nov. 16, 2019 at 10:53 AM CST
BAY ST. LOUIS, Miss. (WLOX) - Children in Bay St. Louis got a surprise visit from one of the most famous athletes to come out of South Mississippi.
NFL Hall of Famer Brett Favre stopped by the Hancock County Boys and Girls Club in Bay St. Louis Friday afternoon. Sporting a full beard, some of the children asked Favre if he was Santa Claus, which he said is a first.
While talking football, life, and chasing your dreams, Favre shared stories with the children, answering their questions and taking pictures.
"I was one of them a long time ago. Our kids are our future. And I used to go to these things when I was a kid and I was like, 'Yeah, whatever,'" said Favre with an exaggerated eye roll. "But here I am 50 years old and you look at things much differently. I've been very fortunate and I think the older I get, the more I realize how much God has blessed me with.... I love kids and I'm constantly reminded that I was one of them. I would feel awful if I didn't do anything to give back and give time and put my arm around these kids."
Favre routinely visits Boys and Girls Clubs around the country but this is the first time he has visited the Hancock County location.
"It's refreshing," he said. "Any time you can spend time with kids in any type of setting, it's very rewarding but to be able to do it knowing some of their parents and relatives, it's really special."
Favre said he is staying busy these days, traveling around the country and speaking at different events, such as the law enforcement fundraiser in South Dakota he just attended.
"I'm always on the go doing something, which I guess sure beats not being wanted," said Favre.
But Hancock County will always be home, he said.
After Favre's visit, the Boys and Girls Club hosted its annual fundraiser "A Taste of the Future" at the Bay St. Louis Community Hall.
Copyright 2019 WLOX. All rights reserved.