City of Jackson wants two more attorneys disqualified from water billing lawsuit
Documents were filed Friday afternoon in Hinds County Chancery Court
Published: Oct. 11, 2019 at 4:54 PM CDT
JACKSON, Miss. (WLBT) - Friday afternoon the City of Jackson filed court documents to have two more attorneys disqualified from the water billing lawsuit.
In the court filing, the city argues Carlos Moore and James Bryant, both members of the Cochran Law Firm, should not be allowed to represent three plaintiffs in a lawsuit against Jackson.
According to the documents the City is represented by another member of the Cochran firm in the Siemens lawsuit. The filing also states Moore, Bryant and plaintiffs intentionally violated the Mississippi Rules of Professional conduct and the order of the court which was an explicit warning not only to attorneys but also to Plaintiffs in the case.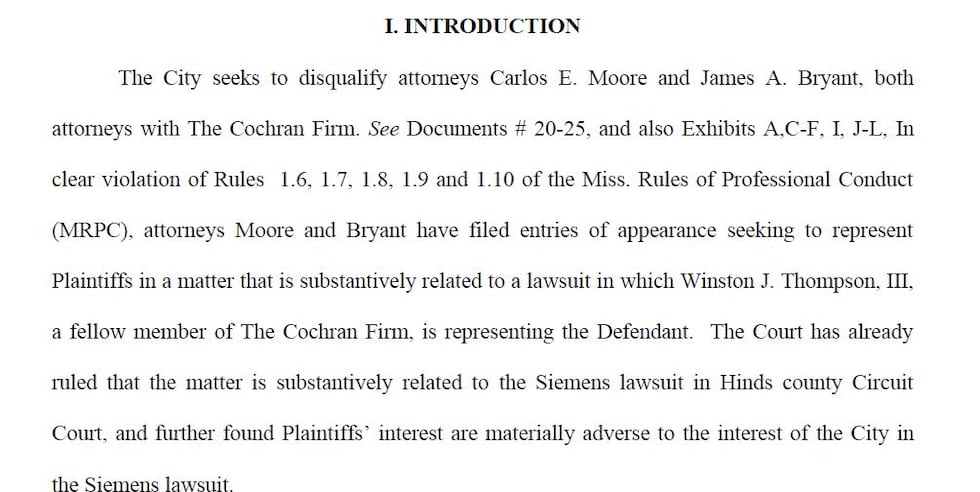 Six Jackson residents have filed a lawsuit to stop the City of Jackson from issuing cut off notices and terminating water service for delinquent bills.
Moore told us Friday afternoon the attorney representing Jackson, Winston Thompson, III, has started his own law firm.
Copyright 2019 WLBT. All rights reserved.