Moorhead & bulldogs put Auburn loss "to bed" ahead of Tennessee
Bulldogs suffer punch to the gut loss, but face a one-win Vol squad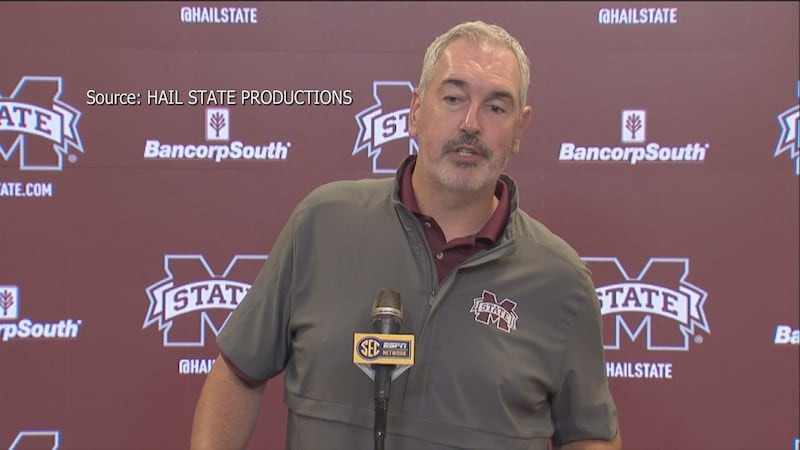 Published: Oct. 7, 2019 at 11:22 PM CDT
JACKSON, Miss. (WLBT) - Mississippi State suffered their worse loss in the Joe Moorhead-era last Saturday.
The Bulldogs were given a punch to the gut with a 56-23 loss to the Tigers.
Moorhead says they've put that loss to bed and are now preparing for a one-win Tennessee.
Coach says they had two good practices under their belt where there was a lot of energy and focus on Tennessee.
"I think attitude reflects leadership. It can go one or two ways. You can either dwell on it and allow the same game to try and beat you twice or you can correct it, put it to bed and move on. We chose the latter,," said Moorhead.
The Bulldog's head coach also when in depth about coach Bob Shoop's connection to Tennessee, a school where the defensive coordinator's son is currently playing and where he was the defensive coordinator at one time.
"I do not think you could ever completely ignore the emotional component of coaching or playing in a football against an institution where you have been before. I think Bob [Shoop] is a consummate professional and any feelings he may have good, bad, or otherwise regarding Tennessee during his time there that he will be able to put aside and his concentration along with the defensive staff will be to put a great game plan together and make sure we are putting the kids in a situation to be successful," said Moorhead.
State will be on the road this weekend, and Tennessee had been an SEC team who has been struggling this season. Moorhead doesn't see them as a "desperate" team, but another SEC opponent.
"Every game is a must win for everybody. I don't think how they have played this year or what their record is or coming off a tough loss or having suffered some close setback is going to crank up their urgency to win. I think in this league, the margin of error is small regardless of the opponent. I think it is going to be challenging because it's our next game, it's on the road and in a tough environment against a good football team," said Moorhead.
Copyright 2019 WLBT. All rights reserved.