JSU open SWAC play at home against win-less Grambling
Tigers hoping home field advantage can keep "the G" win-less at the Vet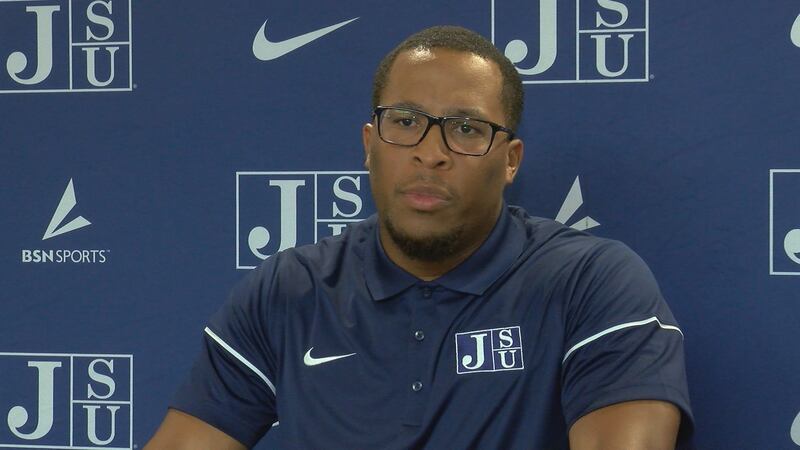 Published: Sep. 30, 2019 at 11:44 PM CDT
JACKSON, Miss. (WLBT) - Jackson State open SWAC play this weekend against the Grambling Tigers.
The G-men from Louisiana have not won a game yet this season.
The tiger defense is hoping the crowd and home field advantage can continue that losing streak against JSU.
Grambling is led by an athletic quarterback who can throw and run well.
The JSU defense has not defended against the option or athletic quarterbacks well this season.
The tigers are coming off another tough loss, this time to the Kentucky State in Indianapolis.
Defensive coordinator Lionel Stokes was on the mic today.
His goal in this game is making sure they box in this quarterback and defend against run-pass-option - also called RPO's.
"So far the quarterback kind of sticks out. He's an athletic guy that can move around in the pocket a little bit, so we got to make sure we keep him corralled in the pocket. It's dangerous whenever you get a running quarterback and he get's to running around in the pocket. Guys thinking he crossed the line of scrimmage, maybe didn't cross the line of scrimmage. But it's always harping on guys staying in coverage. And man, we can always rally up and tackle the quarterback. But we never want to let him throw it over our head. It's still assignment football, but not like last week. Just got to be ready for RPO's," said Stokes.
The tigers play Grambling, at 6 p.m. at Veterans Memorial Stadium.
Copyright 2019 WLBT. All rights reserved.