Ole Miss recap Memphis loss prepping for Hog's rushing attack
The rebels could only muster a 173 yards of offense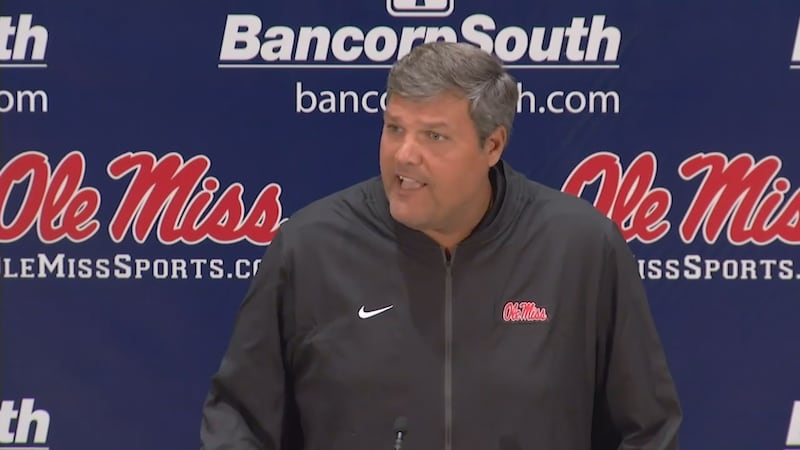 Updated: Sep. 3, 2019 at 12:24 AM CDT
JACKSON, Miss. (WLBT) - Ole Miss is looking to bounce back from their week one loss to Memphis.
The rebels could only muster 173 yards of offense. While Matt Corral passed for 93 yards and an interception.
They begin SEC play on Saturday.
The Arkansas Razorbacks come to Vaught Hemingway and bring with them a nasty rushing attack.
The Hogs running back is a former Last Chance U player.
Rakeem Boyd ran for 114 yards and a touchdown last week. He'll be a tough hog to handle for the rebels defense.
"He's a good back," said Coach Luke. "It seems like he has been there for a long time. I just remember vividly in the game last year that he has the ability to run through you. He can make you miss, he is just a very good back."
"(Devwah) Whaley is really good too," he continued. "So they have a really good one-two punch there. We'll have our hands full trying to stop it. This will be a four-quarter game. That's why our fans will be so key in this one. For a young team, this one is going to be a four-quarter battle. We'll have to go win it in the fourth quarter, and it will be huge to have a home field advantage."
Coach Luke says he's looking for receivers getting separation early, and for the offensive to protect the quarterback better in this game.
Copyright 2019 WLBT. All rights reserved.