Pro-Confederate groups and counter-protesters gather at Ole Miss over Confederate monument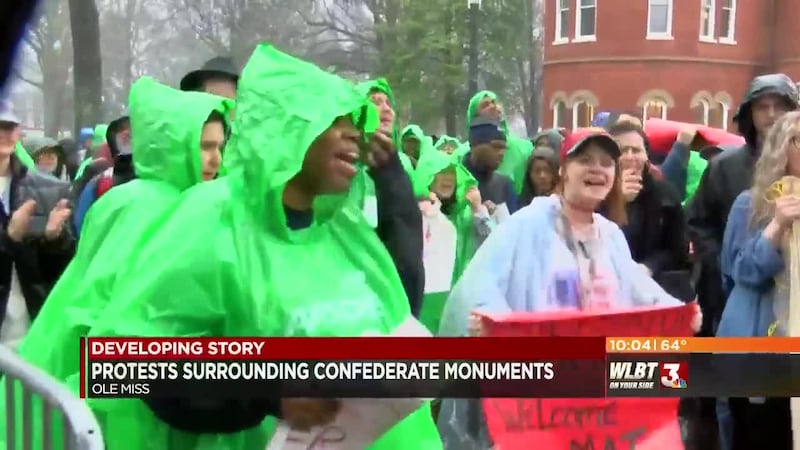 Updated: Feb. 23, 2019 at 4:13 PM CST
OXFORD, MS (WLBT) - Hundreds of people protested at the University of Mississippi on Saturday concerning a Confederate statue located on campus. Two pro-Confederate groups, Confederate 901 and The Hiwaymen met on the Square in Oxford and marched to the Confederate monument near The Grove.
There they held signs and Confederate symbols and chanted for the monument to stay up.
The monument in question has stood on campus for over 100 years.
Several basketball players at Ole Miss took a knee during the national anthem in their home game against Georgia State in solidarity with counter protesters on campus.
On Friday, a protest was held to removed that statue. 'Students Against Social Injustice' organized the event. They were also at the monument with another organization called 'Students Over Monuments.'
The group is also calling for any and all Confederate emblems to be removed from the Ole Miss Circle.
Jared Foster, an Ole Miss student and protester says many of the buildings with Confederate names and the statue are not a reminder of the history, but a glorification of Confederates.
RELATED: Ole Miss police advise people to stay away from area of upcoming march
"This campus is not a museum. It doesn't belong in a place that honors it. I think it needs to be relocated, we believe it needed to be relocated to the Confederate graveyard because it's a monument that honors dead Confederates. It seems logical, or to a museum where people can go to learn about the past and history if they want to," said Foster.
In a video provided by Hotty Toddy News, you can hear students repeatedly chanting "take it down!"
Taia McAfee of Jackson says she feels administrators and the school haven't taken students serious and that a statue such as this one on campus makes her feel uneasy.
"Like hurt personally, just because they are part of administrations that has always told us we're here for you as a black student, we're here to make sure you're taken care of, and that you're comfortable. But I'm not and being disregarded, like that hurts, and i'm also embarrassed," said McAfee.
Students and faculty say prior to Friday's march there was an individual who threatened Lamar Hall with violence. That's where the march started. The campus and officials are investigating who the culprit is. There was a Facebook post with threats showing guns and helmets. Classes were cancelled at the hall to be safe.
Copyright 2019 WLBT. All rights reserved.