Drug Court participant busted with toddler in vehicle during undercover buy
The two-year-old was placed in the care of relatives.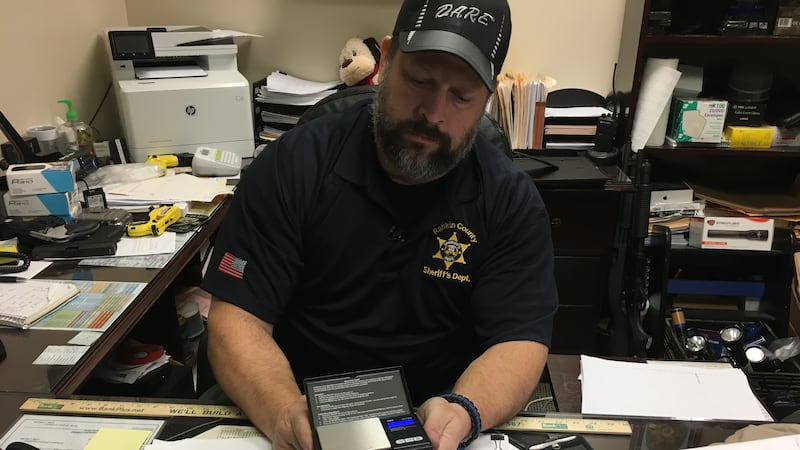 Updated: Feb. 1, 2019 at 6:51 PM CST
RANKIN COUNTY, MS (WLBT) - Rankin County authorities busted a drug court participant, who was selling ecstasy and other illegal substances with a small child in tow.
Sheriff Bryan Bailey is using this felony case as an example to caution legislators and the public about criminal justice reform and how far it goes.
"It's extremely dangerous. It's potentially deadly," said Rankin County Narcotics Investigator Brett McAlpin.
The law officer is talking about Thursday night's bust of Antoine D. Johnson, who authorities said was an armed repeat drug dealer.
Five days prior, the 34-year-old Clinton man led deputies on a high speed chase out of Morton.
But most alarming for investigators was the fact that a young girl was asleep in the back seat of Johnson's vehicle during the undercover drug buy of 50 ecstasy tablets.
"If he had made attempts to pull a weapon and we had to react, bullets don't discriminate," said McAlpin. "And unbeknownst to us, there's a two-year-old child lying down in the back seat."
Twenty-eight-year-old Destinye Bronson of Jackson was also in the vehicle with Johnson.
She is charged with felony possession of a controlled substance and child neglect.
According to deputies, Johnson was also in possession of a stolen 9mm pistol, cocaine, marijuana and $6,000 in cash.
He was out on bond from the January 26th felony fleeing charge, and was in the Rankin County Drug Court System.
His enrollment in the program resulted from a June 2017 narcotics charge.
"80 percent of the people I arrest are on probation, E.R.S. (Early Release System) or some type of court watch or monitoring program," the narcotics investigator added. "I wish when we arrest and convict these people involved in this illegal drug activity that they go to prison and they stay there."
Johnson is charged with trafficking of a controlled substance and felony possession of controlled substance with intent to distribute.
No bond has been set for Johnson or Bronson. The two-year-old was placed in the care of relatives.
Copyright 2019 WLBT. All rights reserved.