Dangerous Deliveries: Why are black women dying during childbirth?
Updated: Oct. 31, 2018 at 11:50 PM CDT
JACKSON, MS (WLBT) -Black women are three to four times more likely than white women to die from pregnancy-related complications, according to the Centers for Disease and Control.
The issue was recently brought to the forefront after tennis star Serena Williams revealed she could've died after giving birth to her daughter, if she hadn't insisted on getting a CT scan to reveal an issue with a blood clot.
As a result of Williams sharing her story, awareness increased about how often other black women nearly die from pregnancy-related complications.
The CDC has been monitoring pregnancy-related deaths in the U.S. through its Pregnancy Mortality Surveillance System.
The latest CDC data shows there were just over 2,700 pregnancy-related deaths reported between 2011-2014.
Data also shows there is a racial disparity in the number of reported deaths:
· 12.4 deaths per 100,000 live births for white women
· 40.0 deaths per 100,000 live births for black women
· 17.8 deaths per 100,000 live births for women of other races
What's behind the racial disparity?
3 On Your Side met with Dr. Michelle Owens, an OB/GYN and board-certified maternal-fetal medicine specialist at the University of Mississippi Medical Center to find out.
Dr. Owens said pregnant black women commonly experience the pregnancy-related complications such as pre-eclampsia, issues with heart function or heart failure, blood clots in the legs or lungs and hemorrhage.
She adds women who may not have higher levels of education or have lower socioeconomic status are at a higher risk.
However, Dr.Owens said even if those factors are controlled, the risk of death doesn't decrease.
"There are issues related to quality of care and access to care which is very common here in Mississippi," said Dr. Owens. "There's also the issue of which we've not really spoken about very much in the past, but this issue of implicit bias within the healthcare system and also the effect of what is called toxic stress or what people think of as consistent exposure to systems and societal issues that create stress in their bodies that in turn make them more susceptible to medical complications."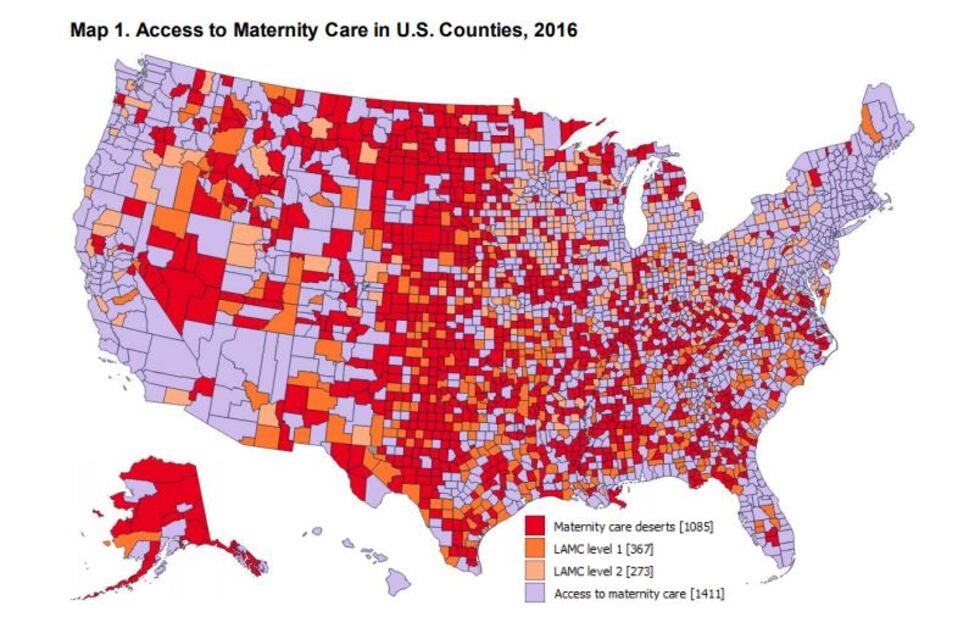 The March of Dimes reports nearly half of the counties in Mississippi are considered maternity care deserts, which are counties that don't have hospitals with the appropriate staff to provide treatment for pregnant women, and no OB/GYNs or midwives to care for them.
Black women are not only at a higher risk of dying from pregnancy-related complications, according to a study published in the Journal of Women's Health, research shows black women are more likely than white women to experience discrimination, receive substandard medical care and undergo unnecessary surgeries such as hysterectomies.
The study also said even if black and white women have equal socioeconomic status, insurance coverage and healthcare access, black women still get lower quality care.
"I think it's very common for women to feel that they aren't listened to, and I don't think that's an African-American thing, I think there's a problem with women feeling empowered to speak up and then when they finally do, feeling as though they are heard, Dr. Owens said. "There's a lot that can be done based on working with communication, acknowledging what patients are saying."
Of the women I spoke to on and off camera, many told me they feel their concerns fall on deaf ears.
Aprill Coleman is a mother of five and recited several instances during her pregnancies where she felt her concerns weren't heard.
During one of her childbirths, Coleman said she told the medical staff the epidural she was given didn't work and that she could still feel pain in one leg.
Coleman said she was told she would have to get an episiotomy, but that's where things took a turn.
"I literally felt every cut in that area," Coleman said. "I screamed, and I kicked him because he was right there and he was cutting. He cursed at me like what the… are you doing?! I said you just cut me and I felt all of it! He looked at me, and he looked at the nurse and the nurse looked at him and he was cursing. It was chaos in the room."
That wasn't her only negative experience during childbirth.
In a future pregnancy, Coleman was diagnosed with preeclampsia, one of the complications that contribute to a higher risk of death for black women.
"They gave me way too much blood pressure medication, and I went to get up to go to the restroom and that's all I remember," Coleman said. "I'm down there and they gave me blood pressure medication. then, I went upstairs, and they gave me more medication, and then maybe four hours later they gave me more blood pressure medication. So, I really think they gave me too much."
In the midst of all those trips, Coleman said she didn't raise any questions about how often she was being given medication.
"I didn't ask because you know, you think they're giving you the best care so you don't want to question what they're doing," Coleman said. "I just wanted to go home. I didn't even ask them anything else about what happened. Um, I knew they would sweep it under the rug."
Dr. Owens also has a personal connection to the pregnancy-related complications that plague black women, she experienced hemorrhaging, a condition she said is the leading cause of death for women in U.S. and worldwide.
"At first I thought okay, this is still kind of common," Dr. Owens said. "My bleeding had slowed down, then it started to pick up again."
Her husband went to pick up medication to help slow the bleeding, but even that didn't work.
Dr. Owens says the bleeding intensified so much, she was no longer comfortable staying at home.
"I immediately went to the hospital and I'm really glad that I did that because I continued to bleed, and I had to have emergency surgery in order to stop the bleeding," said Owens. "To think this is something that I do everyday and I've treated so many women who have suffered from hemorrhage, and to have that happen to me was really eye-opening. It makes me so grateful to still be here and still be able to give something to other women but it's also made me more passionate about making sure women advocate for themselves and that they are educated about their bodies and that they know when something is not right, they make sure they let their doctors know."
What can black women do to lower their chances of dying from these pregnancy-related complications?
Dr. Owens said health before pregnancy plays a big role.
"This is a serious problem but it's also an opportunity for us to take a look at every aspect of care," Dr. Owens said. "We look at the communities and how we can strengthen the communities to improve the health of its citizens. We can look at institutions and see how we might internally be able to tighten and tidy up those services and systems, so women don't fall through the cracks. I think it's also an opportunity for the healthcare profession to really be able to take a hard look at how we've done things in the past and make the necessary changes to do better in the future. This is something that affects every one of us and I think the women, children and families of Mississippi deserve that."
There are several initiatives underway in Mississippi to get a better understanding of maternal mortality in the state.
Dr. Owens told 3 On Your Side the State of Mississippi has a legislatively supported mortality review that will allow information to be collected about women who die from pregnancy within a year.
"We get to review those cases and see if there are improvements that can be made in order to prevent those things from happening," Dr. Owens said. "It's a very deep dive into these stories where we look into what we think are the systemic things that might have contributed and if there any individual, educational or deficiencies that need to be addressed."
Dr. Owens also talked about the Mississippi Perinatal Quality Collaborative.
"Through that collaborative we've been able to send out to the hospitals that provide surgical services, these patient-safety bundles which actually allows physicians and other healthcare professionals to have a more standardized approach to some of the more common obstetrical emergencies and complications that can if not handled and recognized at the appropriate time, escalate into something that can potentially be fatal for women," Dr. Owens said.
Copyright 2018 WLBT. All rights reserved.