Ivanka Trump visits Gulfport for childhood education discussion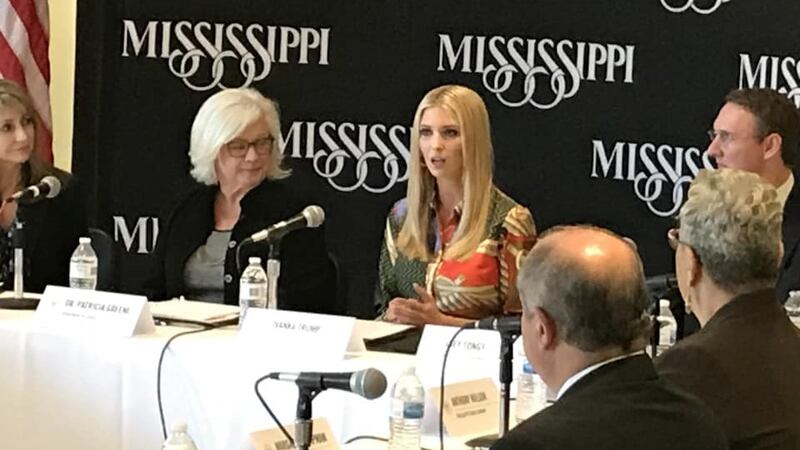 Updated: Oct. 25, 2018 at 1:51 PM CDT
GULFPORT, MS (WLOX) - Ivanka Trump, who is the daughter of and an advisor to President Trump, visited Gulfport Thursday to take part in a panel discussion on early childhood education and workforce training.
Trump and leaders from across Mississippi sat down to discuss early learning opportunities and what's working here. Trump said part of her philosophy of making childcare a success is the participation of private businesses.
"We're starting to see more and more examples of business recognizing the benefits of having on-site child care or creating incentives for their employees," she said. "What we've been working at is how to extend that to smaller businesses.
"It's amazing to see what's happening in Mississippi. They have one of the best records in the country in terms of cost of infant/child day care."
Leaders attending the listening session included Lt. Gov. Tate Reeves and Sen. Cindy Hyde Smith, who said job opportunities and childcare work hand in hand.
"We're trying to build that ability and pathway that we can get parents educated where we can get them employable while taking care of the family," Hyde Smith said.
This event is a part of the Department of Labor Women's Bureau's "Best Practices" campaign which aims to highlight why high quality affordable childcare is critical in order to have a strong and prosperous workforce. This campaign has been a priority of the administration.
"Shockingly to us, it was the first time there had ever been held at the Department of Labor a conference on child care and the importance of childcare for labor force participation," she said.
The purpose of these sessions is to gather information so the U.S. Department of Labor can work with the White House on common sense solutions to issues facing every day Americans.
"The Department of Labor and Ms. Trump chose Mississippi as one of only 10 places to visit for these round table discussions so that they can talk about the things we're doing well, talk about the things we're seeing success at and then spread it to other parts of the country," Reeves said.
Ivanka Trump visited the center to highlight the Administration's commitment to increasing accessibility to high quality, affordable childcare, which is critical in order to have a strong and prosperous workforce for generations to come.
Participants in the roundtable discussion also included Patricia Greene from the Department of Labor Women's Bureau, Joey Songy and Laurie Smith from the Office of the Governor, Mimmo Parisi from Mississippi State University, Carolyn Willis from Delta Health Alliance, Eloise McClinton from Southaven Head Start, Andrea Mayfield from Mississippi Community College Board, CEO of Entergy Haley Fisackerly, CEO of Mississippi Power Anthony Wilson, Executive Director of the Mississippi Department of Human Services John Davis and Margaret Chapman from Agape Childcare Center.
Copyright 2018 WLOX. All rights reserved.