3 On The Road: The first puzzle piece of the spectrum
Scott County's Don Triplett is the first person ever clinically diagnosed with autism
Updated: Sep. 24, 2018 at 6:11 PM CDT
FOREST, MS (WLBT) - Don Triplett sort of shuffles nowadays as he crosses the lobby of the Bank of Forest to his desk.
Of course he can take his time. He's earned it.
He's been with the bank for 60 years this year.
Bank President Allen Breland appreciates Don.
"We're very proud of Don Triplett. He's an 85-year-old gentleman who still leads a very active life," said Breland. "Probably the most well traveled person in the state. We have a chicken in his honor inside the bank. He's an avid golfer, so we have a golf club and we have post cards that represent all his travels that he does."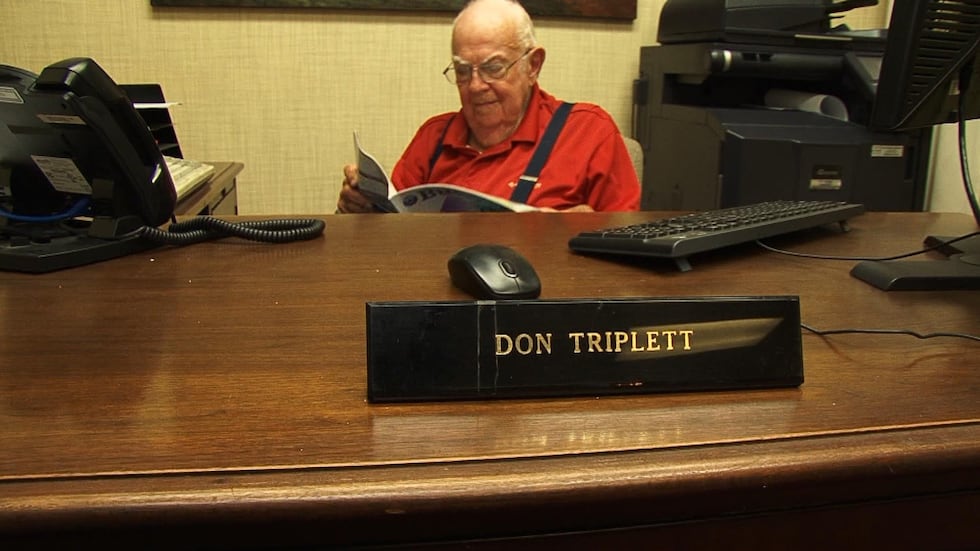 There's another decoration on Don Triplett's chicken that's sort of puzzling. Puzzle pieces. What's that all about?
Well, it represents the puzzle that is autism.
Don Triplett is the very first person ever clinically diagnosed with autism when he was a young child. Don remembers it well and tells some of it. "I think about 4 to 5 years old because I went to Baltimore for the first time in 1938."
Baltimore is where the doctor practiced who made the diagnosis and originated the term Autism to help define Don's particular symptoms. Autism is a puzzle. It affects people differently. And Don's brother, Oliver says the occurrences of autism have mushroomed since Don's original diagnosis
"And I know at one time it was almost epidemic proportions. One in every 60 live births was autistic."
Well, maybe those trips to Baltimore as a child that were one factor in turning Don Triplett into a world traveler. "I've been to Hawaii 17 times and Turkey 7 times and Greece 6 times in my life."
Oliver says his brother, Don has a remarkable memory, musically he has perfect pitch and was born with abilities that are phenomenal.
"In a lot of cases where an autistic birth occurs the person born has what are called savant skills. This held true for Don in the fields of mathematics and in music. Don, just by way of example what would 38 times 23 be?"
"874."
I checked that on my calculator on my phone. He's correct, but it took me three times to get it right in my calculator. Kept hitting the wrong buttons.
Don Triplett is a celebrity in Forest. He has so many remarkable things about his life to make that rightly so. 60 years on the job. The first case of autism distinction, plus he has his own chicken!
There is so much more to Don Triplett's story. He's mentioned in the book, "In A Different Key" that explores autism and the people who wrote the book are producing a television special about Don's life.
Copyright 2018 WLBT. All rights reserved.